WPS Welcome Guide
All the info to get you started.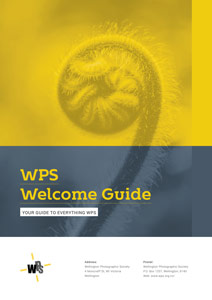 We have put together a short guide for new members, to get them up to speed with all things Wellington Photographic Society
THE AIM OF THE SOCIETY IS TO ENCOURAGE PARTICIPATION AND HELP MEMBERS DEVELOP CONFIDENCE IN THEIR PHOTOGRAPHY. WE PROVIDE A DIVERSE PROGRAMME OF ACTIVITIES AND WE ARE SURE YOU WILL FIND THAT THE SOCIETY HAS PLENTY TO OFFER YOU.
Member Benefits
Here are some great reasons to become part of the club.
Experience & Learn – Do you enjoy taking photos? Enjoy getting out and about with your camera? Enjoy learning about new photographic techniques and sharing your knowledge and experience with others?
Photowalks & Field Trips– We have regular social photowalks and field trips, which involve getting outdoors with your camera and taking photos of all sorts of things. Some recent trips include a photowalk around the Cuba St, a sunset photoshoot at Miramar Peninsula, and a photowalk in the Botanic Gardens. Occasionally we organize longer trips farther afield. Past trips have included photographing the Wairarapa Balloon Festival, Spring Flowers at the Botanical Gardens, and other adventures down on the South Coast.
Member Competitions – These are a great chance to have your work critiqued by an experienced club member. Members are able to submit one image per meeting. Comments and feedback are given for all images submitted. 1st, 2nd and 3rd placings are awarded, with points being aggregated towards annual trophies.
Exhibitions – The pinnacle event of the year is our annual Exhibition which is held at a public gallery towards the end of the year. Members are asked to submit the best of their year's photographic work, then a panel of experienced members select around 50 images to present in the Exhibition. For many of our members this is a wonderful experience to exhibit their work.
Networking –As a member of the society, you have the support, networking opportunities and friendship of your peers who share your photographic interests. Being a member of WPS offers a great opportunity to try out new techniques and styles of photography with the support of others.
Workshops – Workshops are open to everyone (though capacity will be limited) and are great for learning photography tips from experienced photographers. They will walk you through their experiences and work with you to create images and learn new skills.